| | | |
| --- | --- | --- |
| | | |

The Tibetan Phone Bell
and Timer

This product serves as a unique replacement ringer for your telephone & simple meditation timer all in one. Simply plug in your phone line, turn off your telephone's ringer, and when a call comes in your phone will ring with the long-resonating tones of our 6 inch brass bowl-gong. The bowl-gong rings every six seconds (the same interval as your phone's ring cycle) until the call is picked up. The Tibetan Phone Bell is an attractive decorative accessory that fills your home or office with beautiful tones whenever you receive a call. (Telephone not included.) For use as a countdown timer, simply turn the control knob to set the minutes in the LED window, press start, and the timer counts backwards to zero and strikes the bowl-gong. Strikes gradually increase in frequency over a 10 minute period as shown in the chart below.


Clear Maple Wood Finish



Dark Oak Wood Finish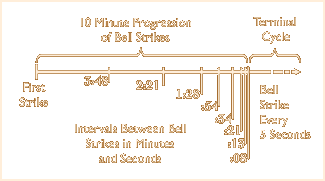 The 6 inch diameter brass bowl gong rests on a wooden platform housing the product's electronics. The timer can be set from 1 to 99 minutes. The striking mechanism can be set on high or low and the "mute" feature prevents incoming calls from disturbing your practice during countdown timing but still allows the bell to sound at the end of the countdown time. The Tibetan Phone Bell is available in clear maple or dark oak wood finishes, it measures 4.5 inches high, 9.5 inches wide and 7 inches deep. It runs on 3 C batteries (not included) and includes a 1 meter phone line extension to connect to any telephone. Connect the product to any phone jack and then connect your phone to it, or connect it to an extra phone jack as a stand-alone ringer. The Tibetan Phone Bell is compatible with all answering machines and voice mail, but it only works with normal analog phone lines—it is not for use with multi-line digital phone systems. It includes a 30 page booklet describing its operation, its use for spiritual practice, and the harmonic features of its design. All Now & Zen products are designed in Boulder, Colorado, and made in Shen Zhen, China; they include a 1 year warranty and our 30 day money-back guarantee.



Contact Us | Contact Customer Service | Catalog Request | Gift Cards | Product Videos
Copyright © 2023 Now & Zen, Inc., Boulder Colorado, USA all rights reserved. Sitemap | Privacy