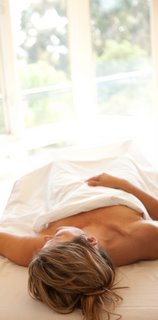 Whether it's yoga to reduce muscle tension, breathing to slow the heart rate, or an herbal massage to calm a racing mind, a simple routine can be the most effective and safest road to a better night's sleep. There is growing evidence that small behavioral changes can make a big difference in getting some good shuteye. A 2006 study published in the Journal of the American Medical Association showed that participants who made modifications like reducing stimuli in the bedroom and learning relaxation techniques improved their sleep more than those who took drugs.
adapted from Yoga Journal
To find out which rituals will work best for you, it helps to understand insomnia from an Ayurvedic perspective. Yoga's sister science and India's oldest known system of medicine, Ayurveda is based on the idea that the life force that exists in all of us manifests as three different energies, or doshas, known as vata, pitta, and kapha. Though everyone has some of each dosha, most people tend to have an abundance of one or two.
Vata, ruled by air and ether, governs movement in the body. Pitta, ruled by fire, governs digestion and the metabolism. And kapha, ruled by earth and water, governs your physical structure and fluid balance. Ayurveda categorizes insomnia as a vata imbalance, because vata is controlled by air—and air controls the nervous system. Calming yoga and Ayurvedic rituals reduce vata in the body.
adapted from Yoga Journal, by Kelly McGonigal
Boulder, Colorado—an innovative company has taken one of life's most unpleasant experiences (being startled awake by your alarm clock early Monday morning), and transformed it into something to actually look forward to. "The Zen Alarm Clock," uses soothing acoustic chimes that awaken users gently and gradually, making waking up a real pleasure.  Rather than an artificial recorded sound played through a speaker, the Zen Clock features an alloy chime bar similar to a wind chime.  When the clock's alarm is triggered, its chime produces a long-resonating, beautiful acoustic tone reminiscent of a temple gong.  Then, as the ring tone gradually fades away, the clock remains silent until it automatically strikes again three minutes later.  The frequency of the chime strikes gradually increase over ten-minutes, eventually striking every five seconds, so they are guaranteed to wake up even the heaviest sleeper.  This gentle, ten-minute "progressive awakening" leaves users feeling less groggy, and even helps with dream recall.
Now & Zen – The Peaceful Alarm Clock Store
1638 Pearl Street
Boulder, CO  80302
(800) 779-6383
Posted in Well-being, yoga, Yoga Timer