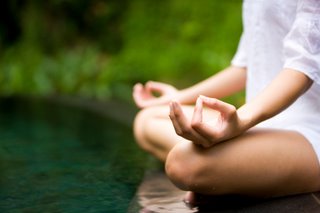 Finding balance is one of life's great goals, but it can be as elusive as it is desirable. Change your approach and its true nature will emerge.
When you're balanced, you can feel it. You get the sense that your life is moving along steadily. You take things in stride. You feel healthy and vibrant, challenged by your life, but relaxed enough to enjoy it; protected by the familiar, but excited by the possibilities ahead. So why does achieving it — and maintaining it — seem so difficult to do for so many of us?
Study balance a little closer, and you realize that what many of us perceive to be the ideal balance is in fact not balance at all. Unlike, say, a balanced scale, a balanced life is not symmetrical, still, or neutral. Like riding a bike, living a balanced life comes easier to you as you gain momentum. From that perspective, the myths and truths that follow in each day's blog can help you find a new understanding of balance — and, finally, a way to get there yourself.
adapted from Body + Soul
Although meditation can be done in almost any context, practitioners usually employ a quiet, tranquil space, a meditation cushion or bench, and some kind of timing device to time the meditation session.  Ideally, the more these accoutrements can be integrated the better.  Thus, it is conducive to a satisfying meditation practice to have a timer or clock that is tranquil and beautiful.  Using a kitchen timer or beeper watch is less than ideal.
And it was with these considerations in mind that we designed our digital Zen Alarm Clock and practice timer.  This unique "Zen Clock" features a long-resonating acoustic chime that brings the meditation session to a gradual close, preserving the environment of stillness while also acting as an effective time signal.
Our Zen Timepiece's acoustic 6-inch brass bowl-gong clock is the world's ultimate alarm clock, practice timer, and "mindfulness bell."
Our Zen Timepiece's acoustic 6-inch brass bowl-gong clock is the world's ultimate alarm clock, practice timer, and "mindfulness bell."
Now & Zen
The Singing Bowl Meditation Timer Store
1638 Pearl Street
Boulder, CO  80302
(800) 779-6383
Posted in Bamboo Chime Clocks